6 minute read
Consumer Attorneys Association of Los Angeles Vegas Convention 2021
Live Coverage of Team Steno at the Event in Vegas
The Consumer Attorneys Association of Los Angeles' Annual Las Vegas Convention is the nation's largest convention of trial attorneys.
It's been held annually in Las Vegas since 1983. The convention connects more than 2,800 attendees with 140 legal service exhibit booths, all in one location.
Attorneys can earn up to 16.5 hours of continuing education during one exciting weekend in Las Vegas. The weekend features more than 20 education sessions presented by over 150 of the nation's most accomplished trial lawyers, jurists, and experts, covering a wide variety of practice areas and the latest developments in trial advocacy.
Steno is a proud sponsor of CAALA and an exhibitor at the event. Ten Steno representatives are attending at the Bellagio Las Vegas from Sept 2 to 5. Keep scrolling to see live photo and video updates from the team on-site throughout the week.
Thursday, September 2
Day one of CAALA Vegas 2021 is underway, and the energy is already high in the educational sessions. The exhibitor hall is bustling with exhibitors too. Right in the middle of it all is Steno's booth, adorned with pink, purple, and a light-up prize wheel that you can't miss.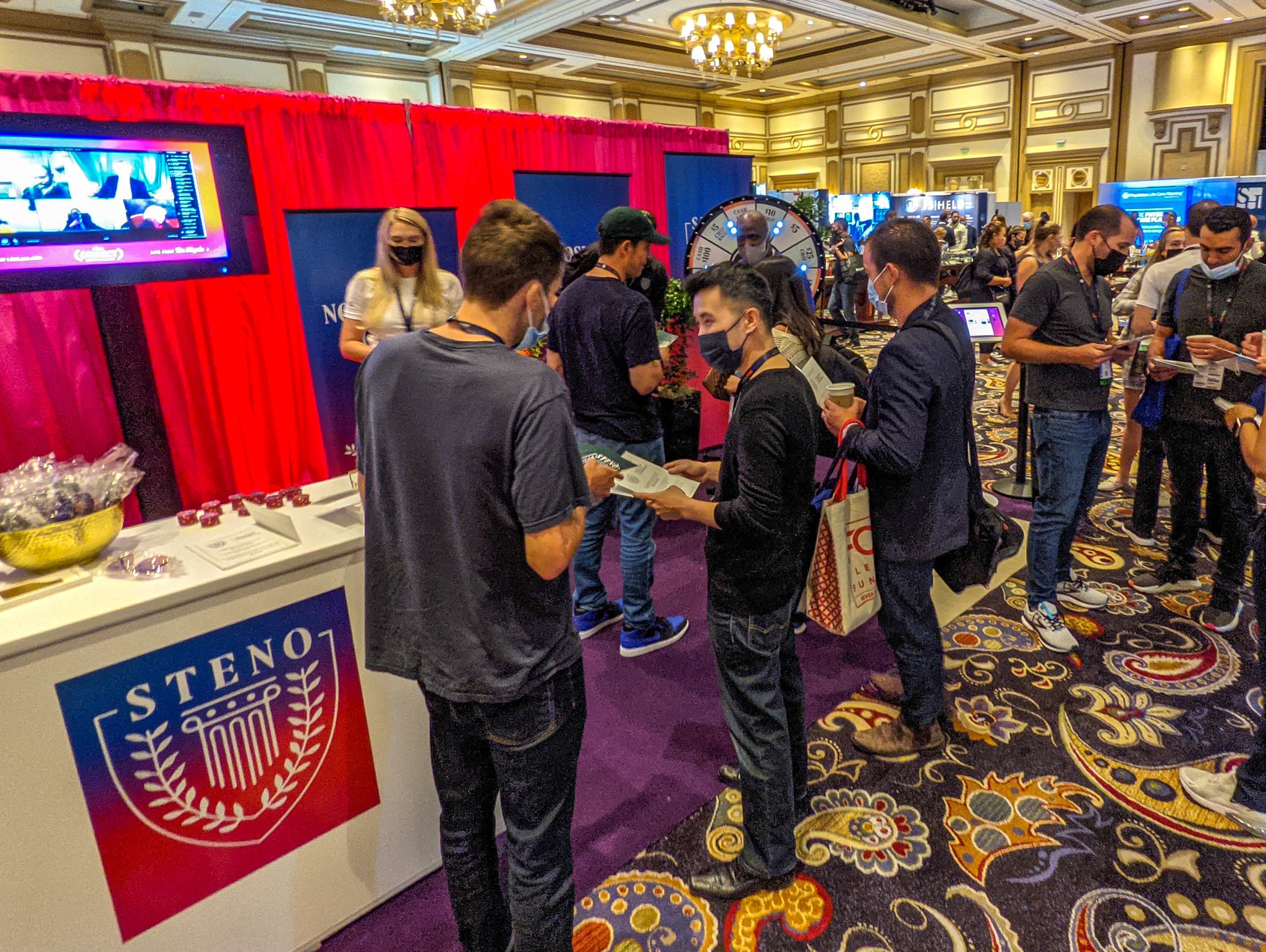 We're giving away cold hard cash at booth #311, and several attendees have already won big, including this attendee who was elated when her spin landed on our $500 grand prize.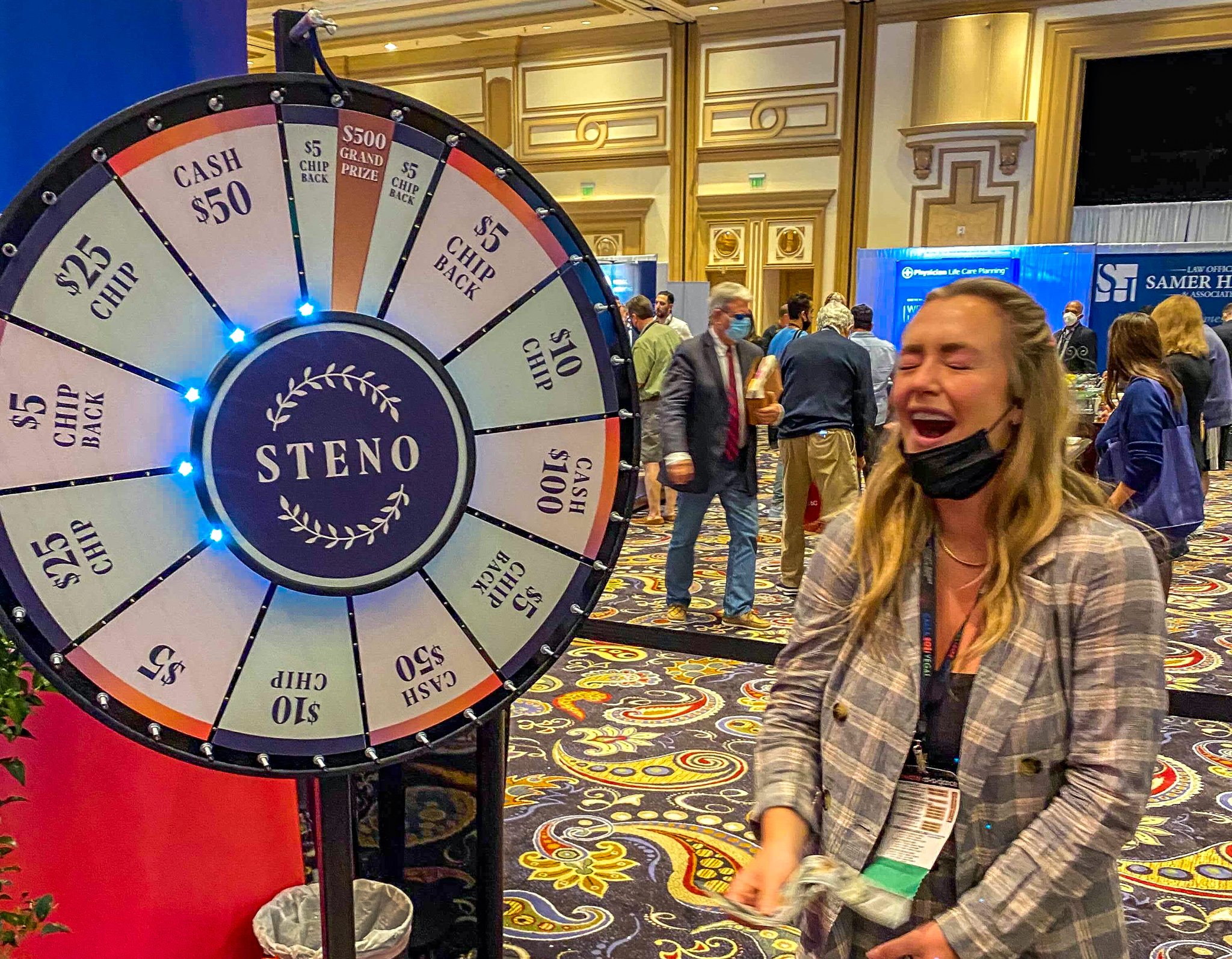 After the first session of the day, our bartender JJ treated guests to cocktails, beer, and wine.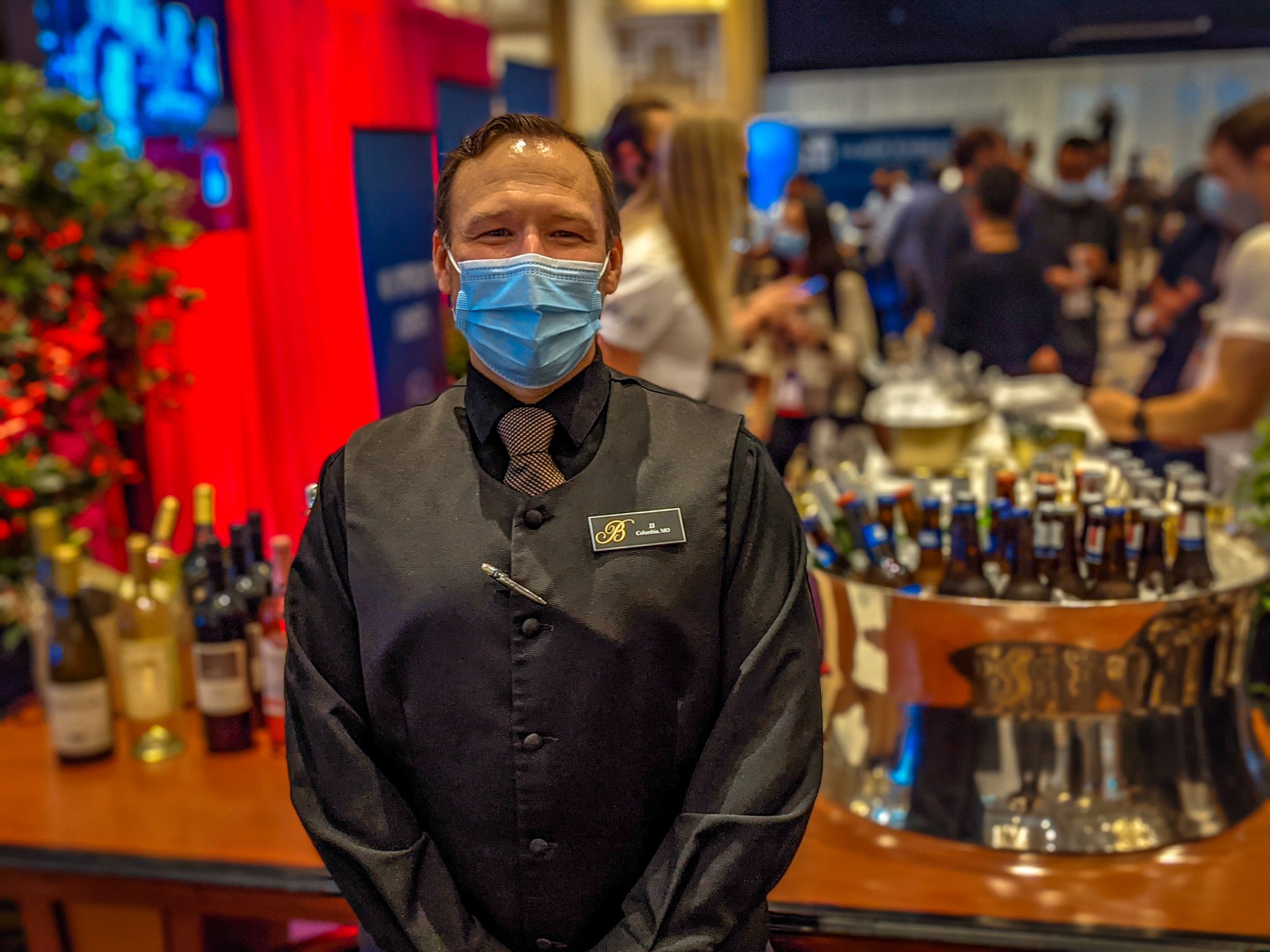 We're serving complimentary refreshments daily. So come by when you need a pick-me-up for coffee in the morning, gelato in the afternoon, and cocktails for happy hour.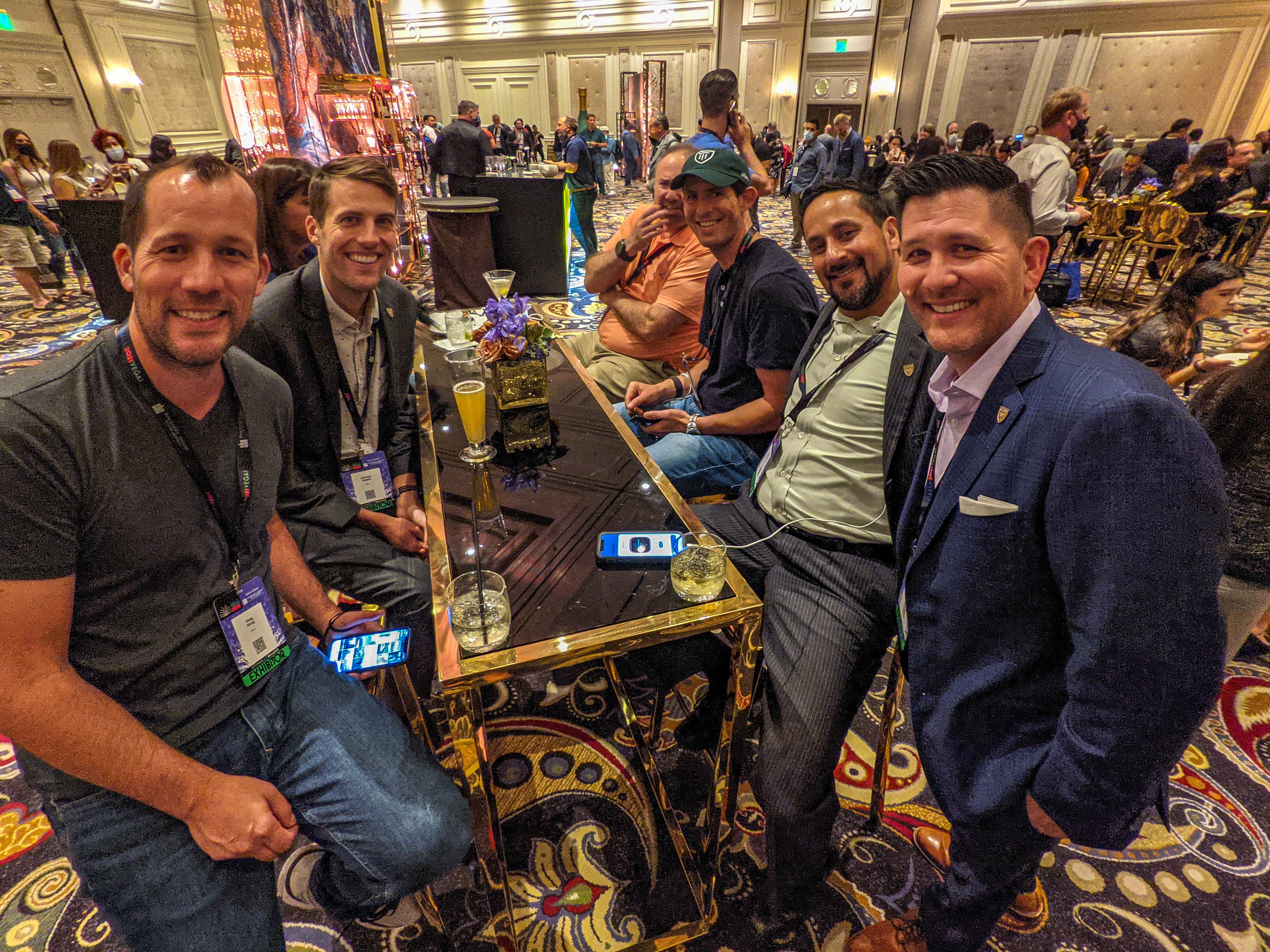 From left to right: Greg Hong, Charles DeWitt, Dylan Ruga, Albert Pinto, and Matt Yamagata
We ended the evening in style at the CAALA Welcome Back Party in the Tower Ballroom. Check back tomorrow for more live updates.
Friday, September 3
Today and tomorrow, we're cooling off poolside at the Bellagio poolside cabanas. Attendees are invited to join us at the Florence Spa pool for beer, cocktails, and appetizers as we beat the heat Steno style.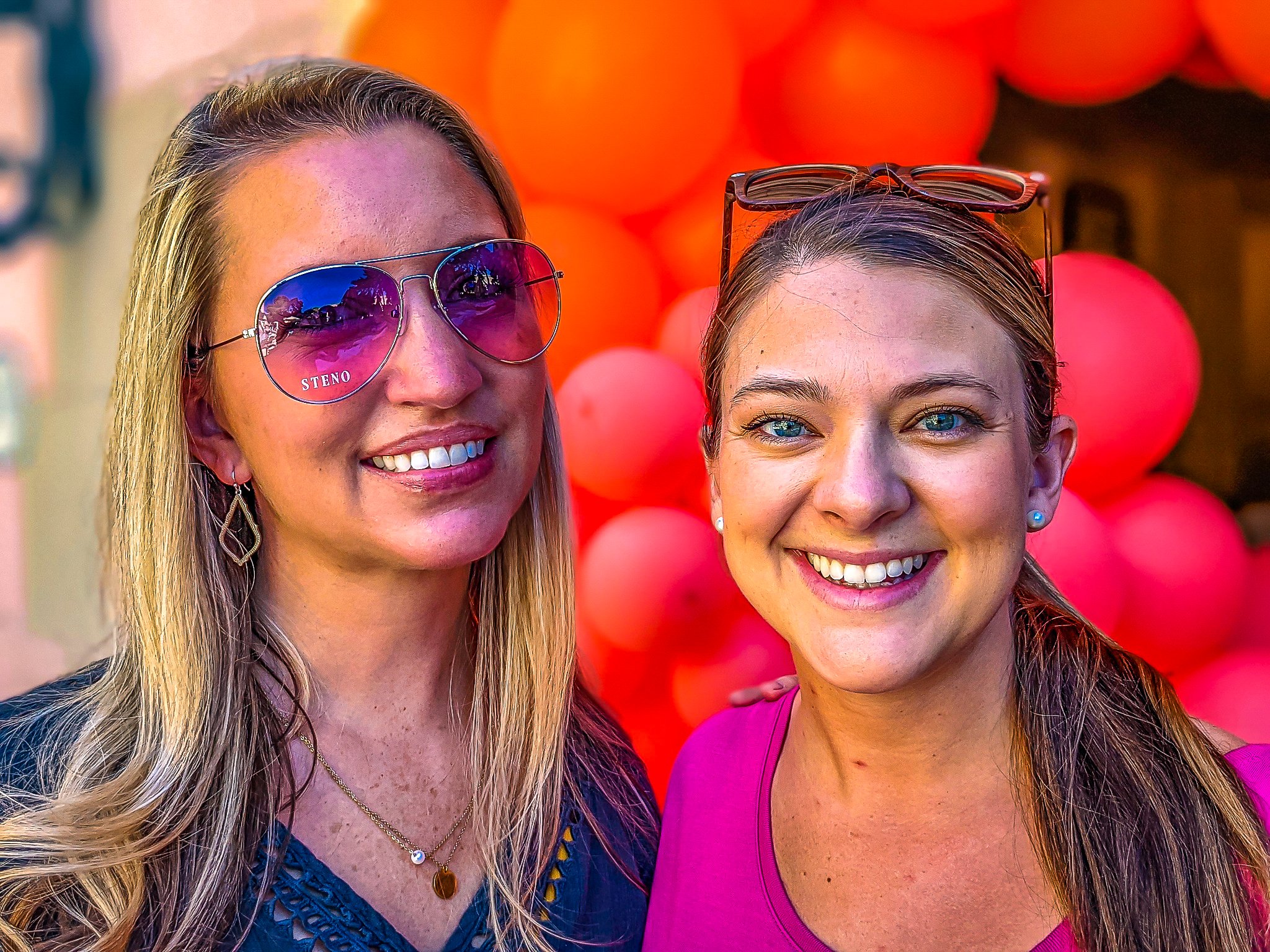 Maggie and Carley can't wait to see all of you!
Come join us at cabana numbers 17, 18, 19, 20, and 21 and snag some Steno branded summer swag.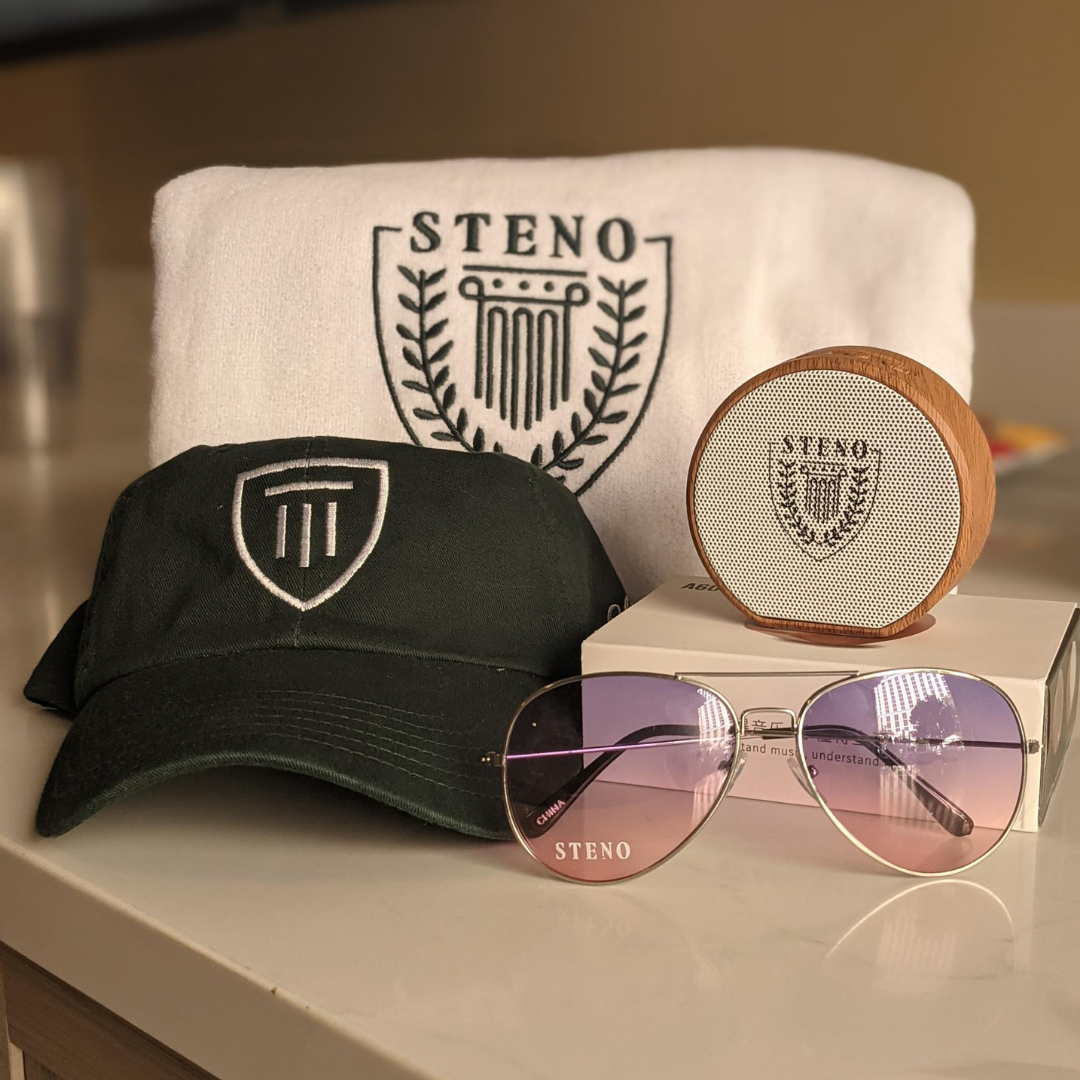 Meanwhile, at booth #311, Collin, Albert, and Charles gave away some serious cash. Did you spin the wheel yet?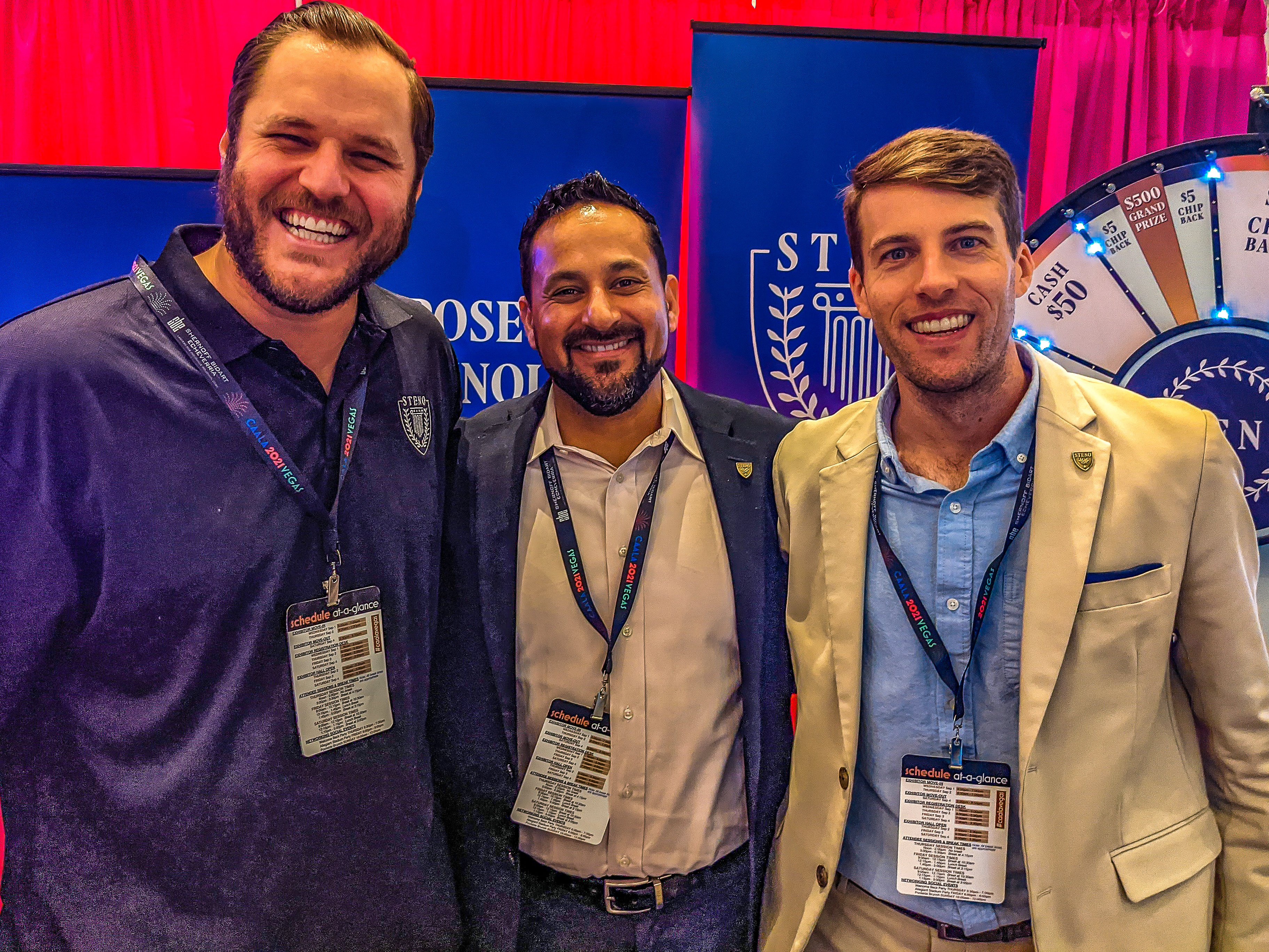 It's a pleasure learning from the brilliant minds of CAALA's speakers. We attended the Discovering the Secrets of Discovery session and learned so much from speakers representing the Simon Law Group, Greene Briollet & Wheeler, LLP, the Law Office of Michael A. Conger, and Arias Sanguinetti Wang & Torrijos LLP.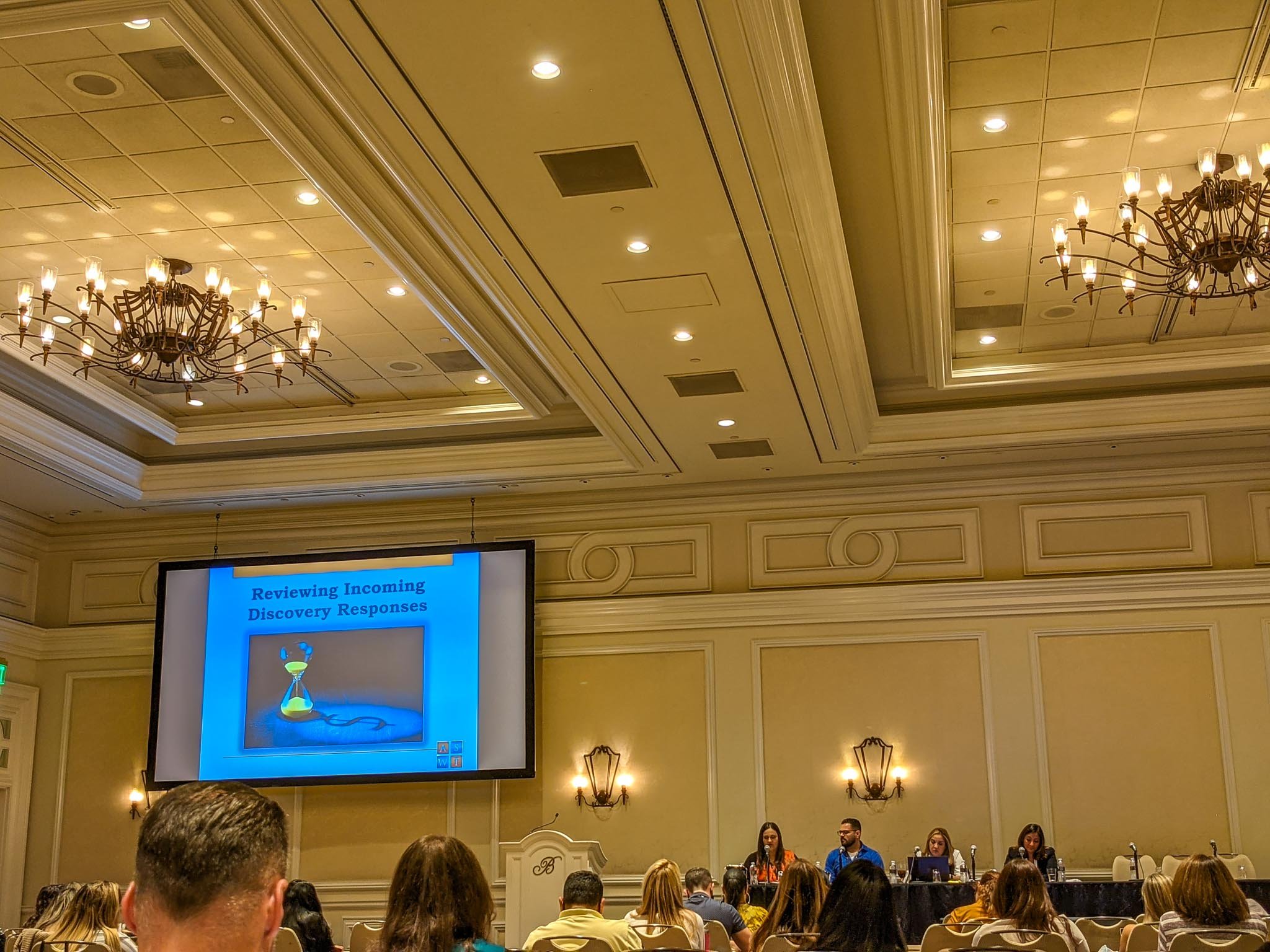 We closed the day with a networking event that was truly a once-in-a-lifetime private stadium experience at the home of the Las Vegas Raiders.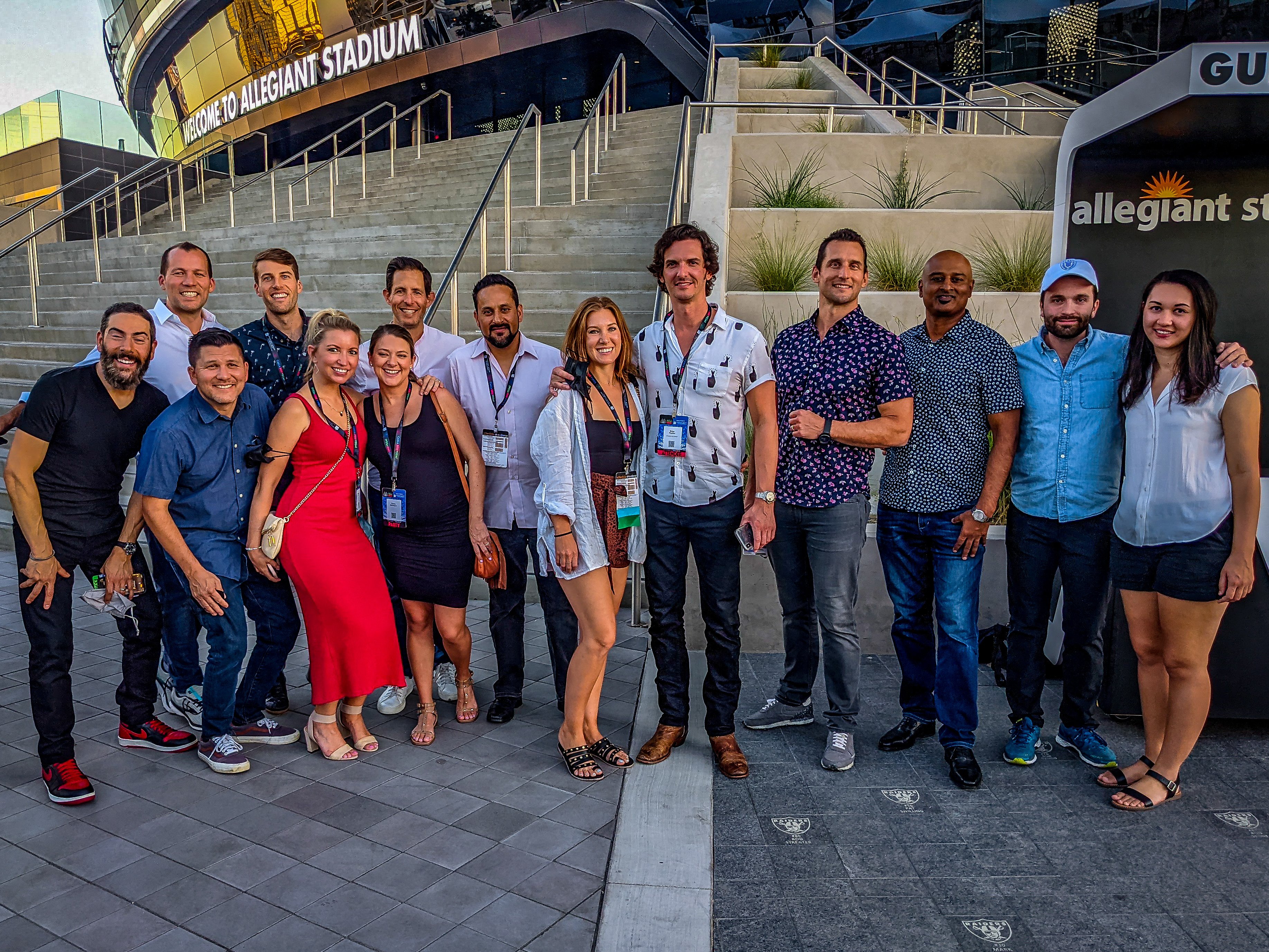 The Vegas-style party took place above the football field and we got a behind-the-scenes tour of the locker rooms too.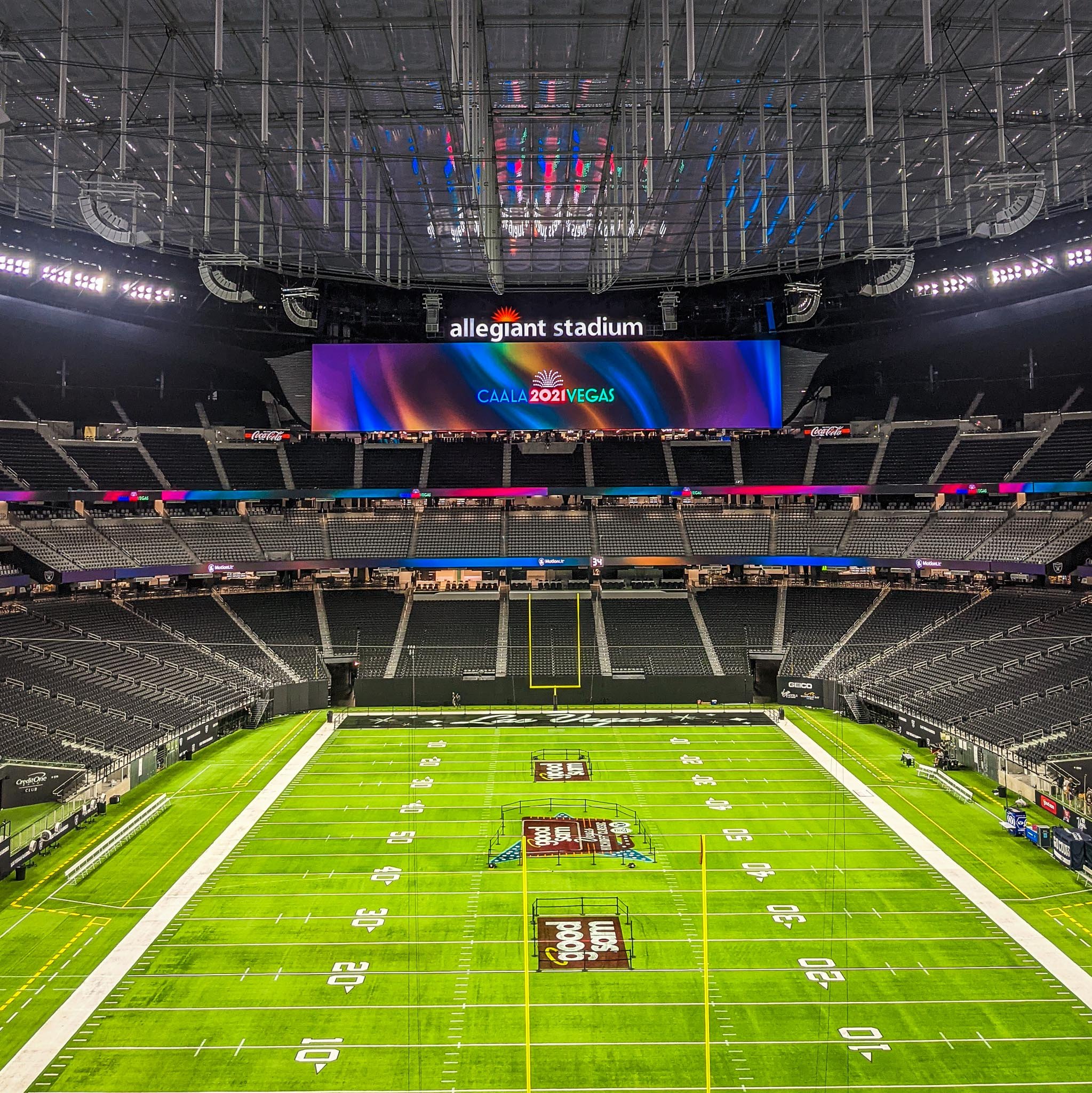 Saturday, September 4
It's the last full day of CAALA 2021 and lots of attendees are scoring last-minute prizes at our booth.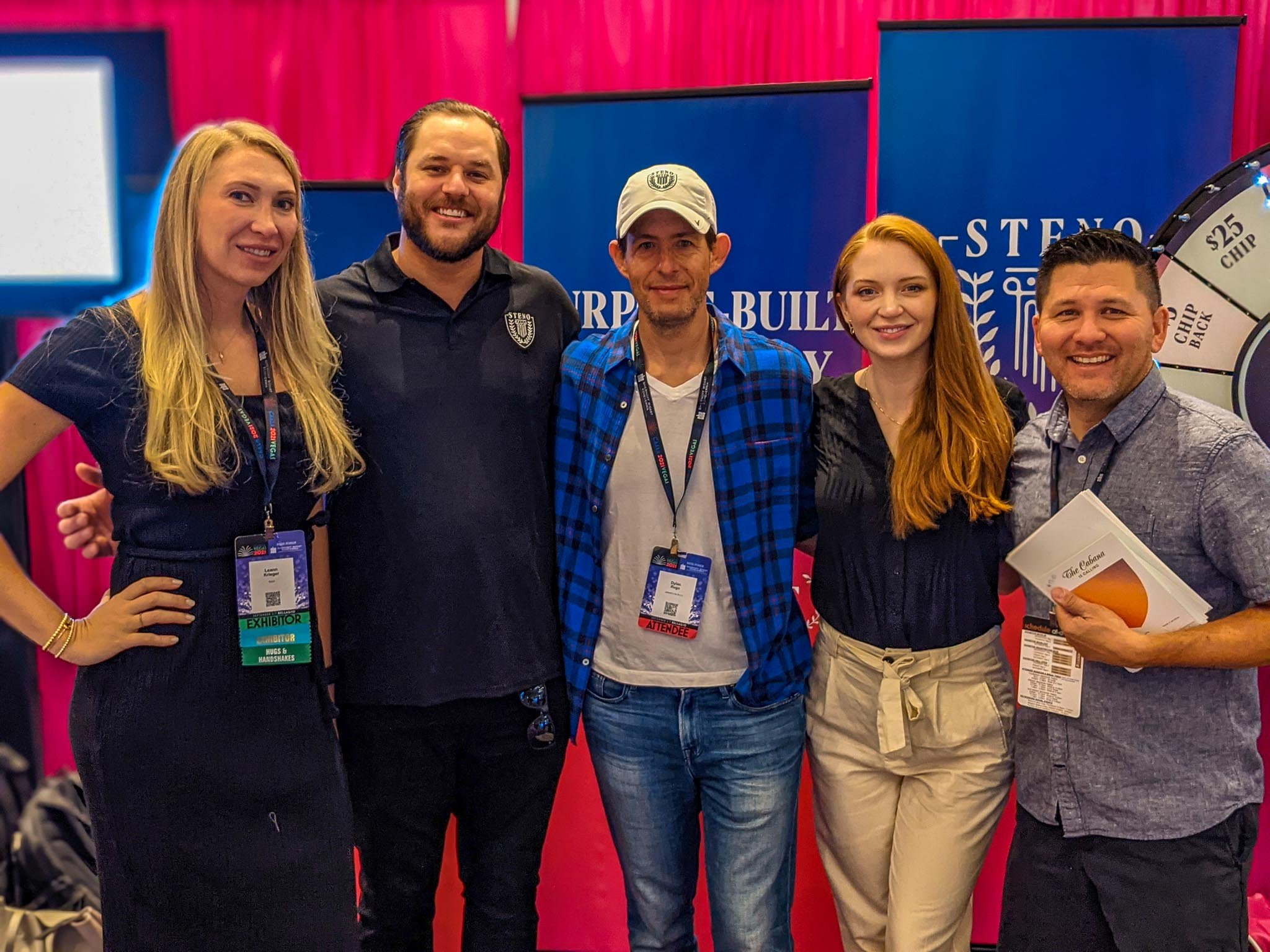 From left to right: Leann, Collin, Dylan, Rachel, and Mat
We welcomed the opportunity to relax poolside at our cabanas, sharing drinks and excellent conversation with guests who took a break from the exhibit hall floor and educational sessions.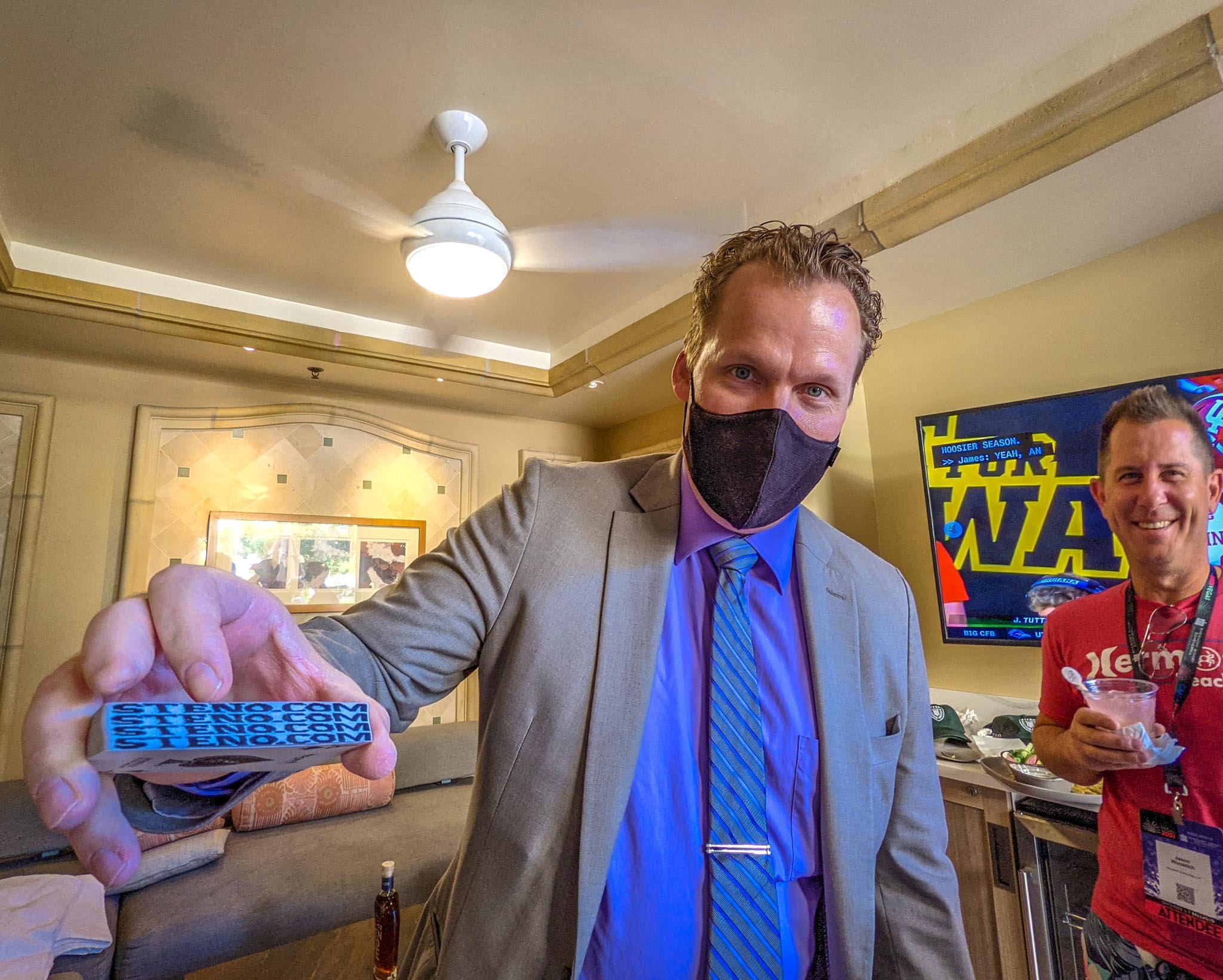 The highlight of the afternoon was watching Magician Nine Digit Dave wow our guests with his sleight of hand.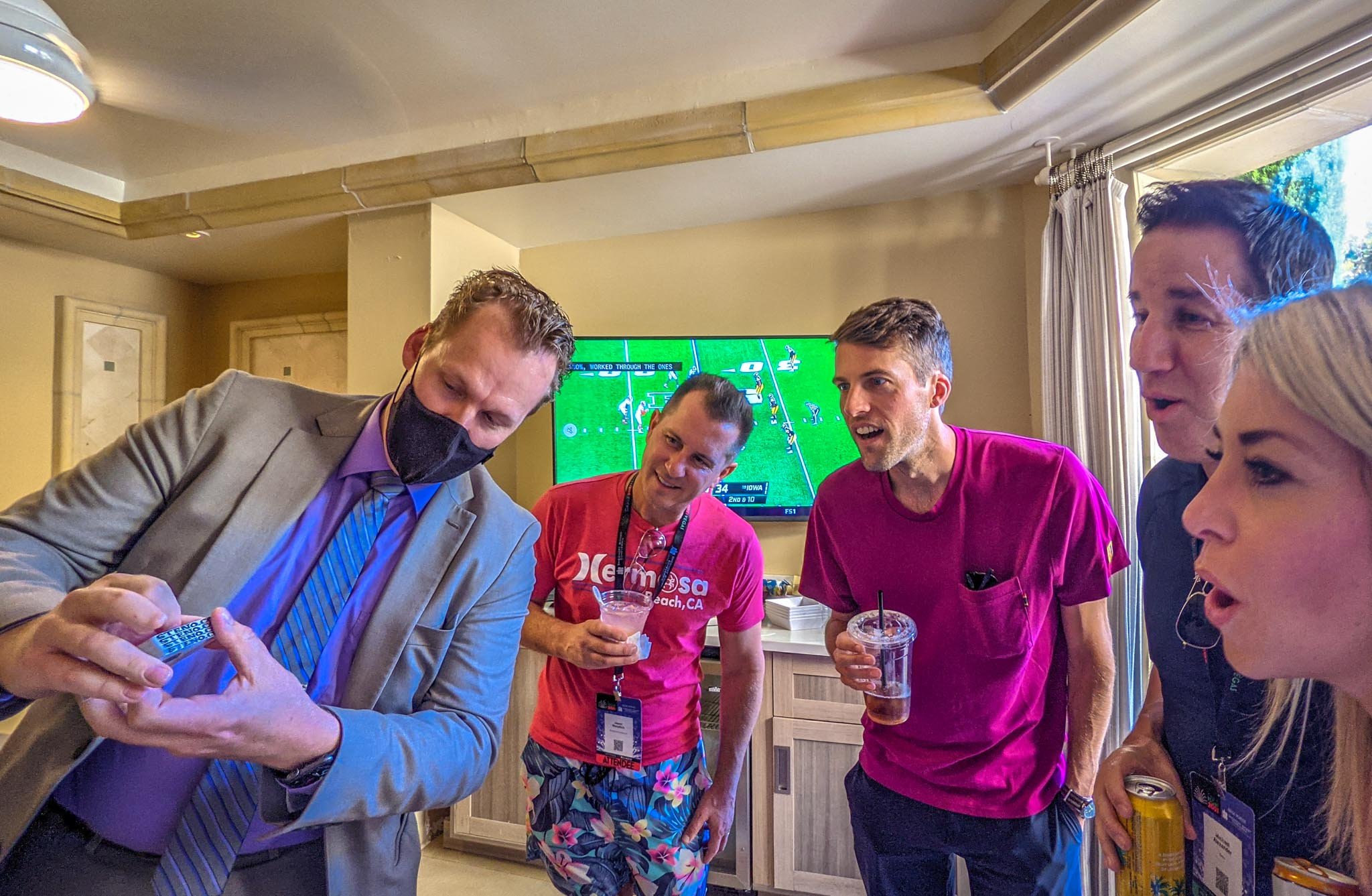 The day wrapped up with a mock trial for a car crash. The Honorable Eric Taylor presided as judge over the proceedings as Arash Homampour, Deborah Chang, Gary Dordick, and other industry leaders demonstrated how a car crash case should be tried.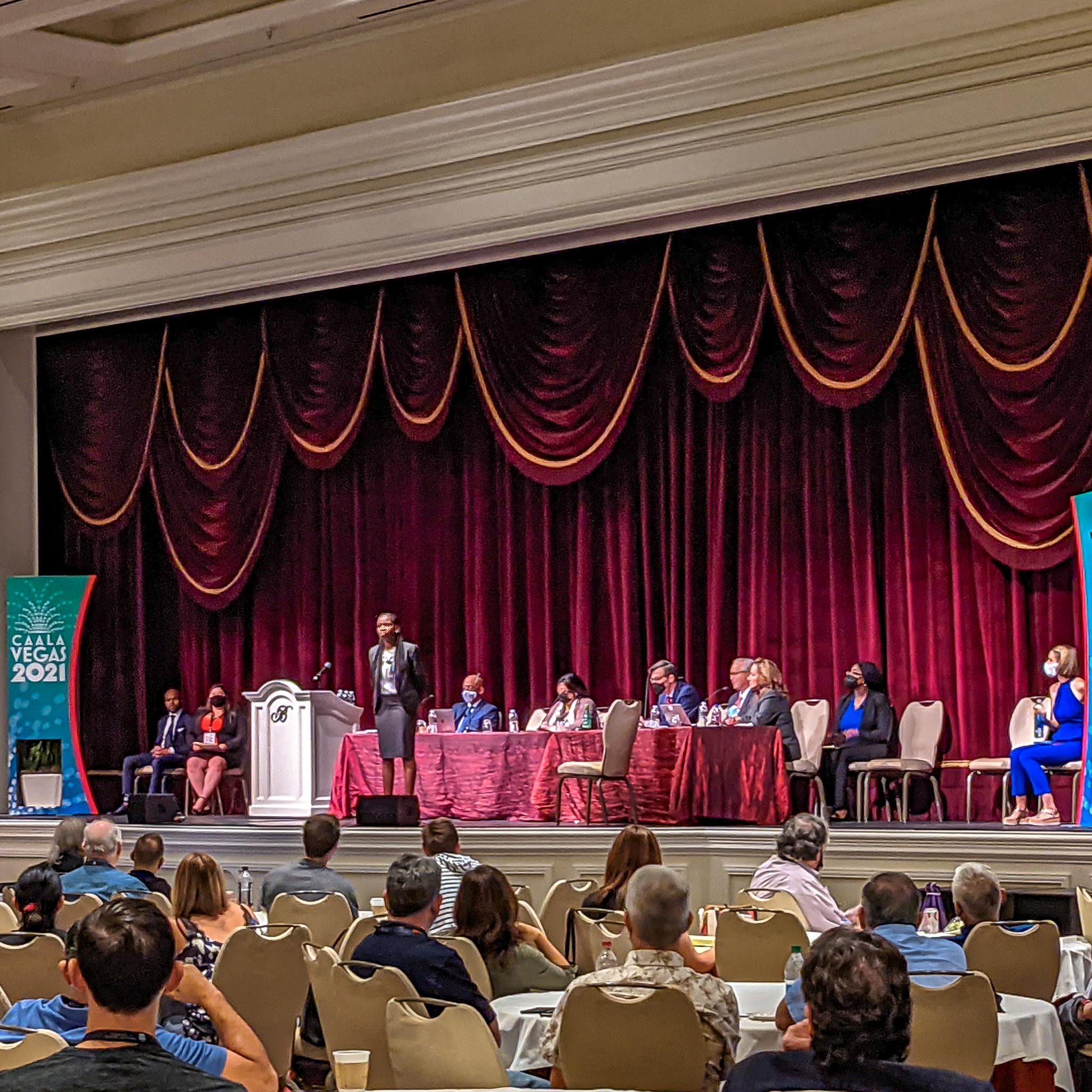 I was truly a pleasure to be an exhibitor at CAALA Vegas 2021. Thank you to everyone who took the time to meet and talk with us.
We loved adding moments of delight to your day and providing you with fun gifts to take home. We look forward to working with some of you in the future.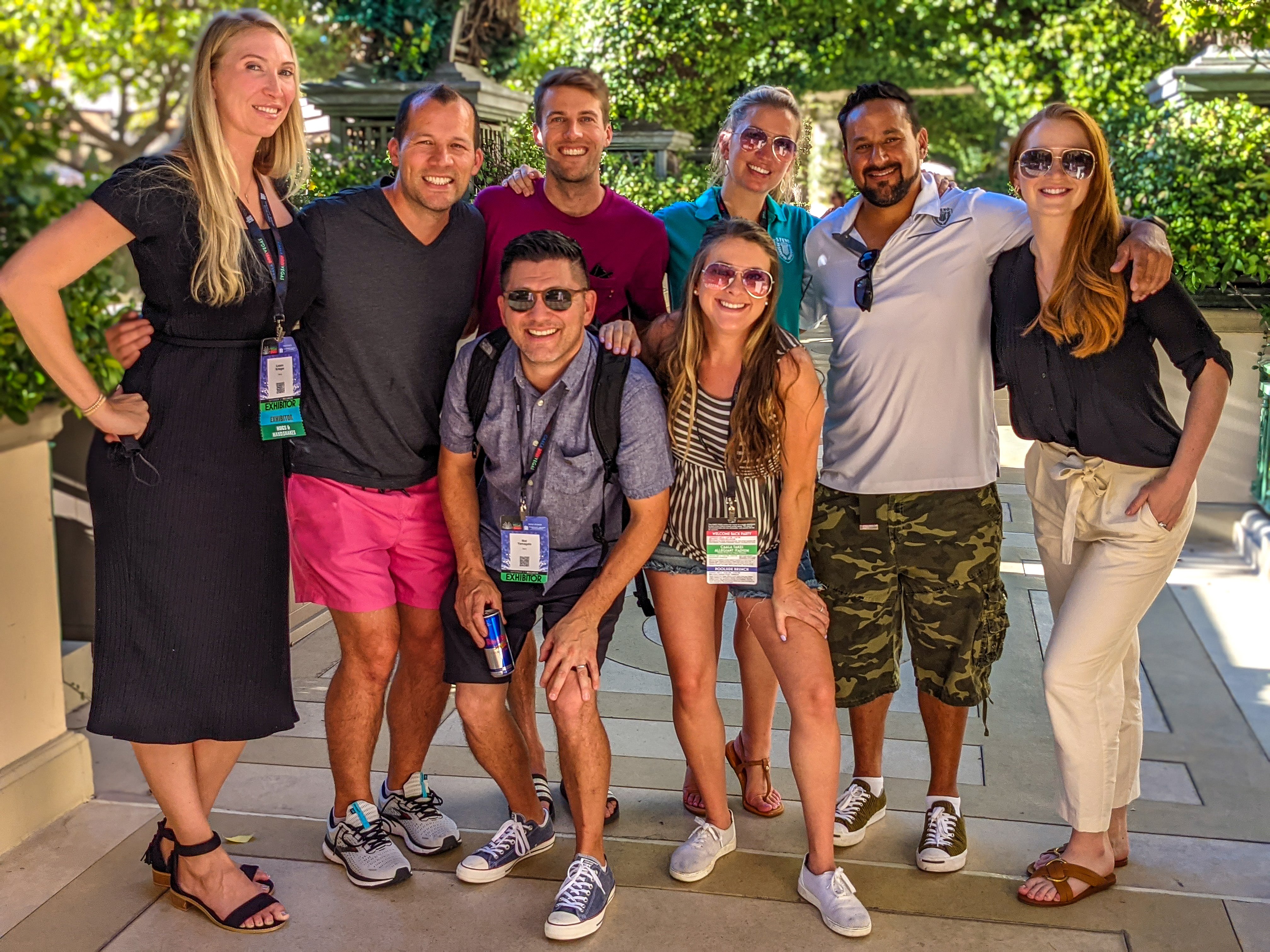 Follow along to see where we're headed next on Instagram @steno_reporters or Facebook @stenocourtreporting.
Steno Agency, Inc. NV: Firm #108F
TAGGED WITH:
Community
,
News and Updates
,
Continuing Education
Get the latest from The Brief directly in your inbox
AVAILABLE NATIONWIDE
The court reporting you need. The service you deserve.

When running a law firm, you have a lot on your mind: your cases, your clients, your cash flow. You need to meet your deadlines, work up your cases, and generate new business. So the last thing on your mind should be worrying about the details of depositions. Don't let financing or technical hurdles stand in your way.
Recommended for you: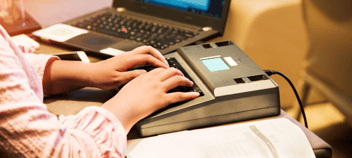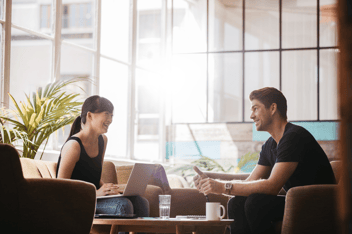 There are many choices new lawyers must make as they search for a new career after law school. The...
Read Blog Post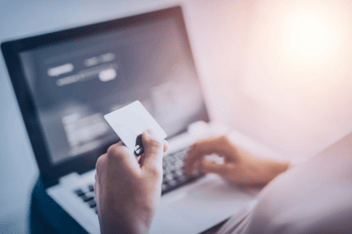 In 2021, Steno expanded our services to attorneys practicing in New York. With that expansion, we...
Read Blog Post