7 minute read
Physical Therapist to Legal Tech Marketer: Finding the Perfect Place
As a company, Steno is committed first and foremost to operating with a hospitality mindset. This core value applies to our work with clients but also the employees behind the scenes.
Everyone, from the chief executive officer to a freshly minted intern, is valued and seen. A recent survey of our team showed that 100% have confidence in leadership and believe they care about employees' well-being.
We prioritize taking time to acknowledge the contributions of our staff by celebrating Team Tuesday each week. We also celebrate work anniversaries, promotions, and other milestones whenever we can.
Today we're shining a spotlight on a member of the Marketing Team, Leann Krieger. Her role requires creativity and resourcefulness in securing partnerships and organizing successful events that aid Steno in promoting brand awareness, engaging with clients, and communicating brand strategy to stakeholders.
Leann joined Steno in 2019 and just celebrated her two-year Steno-versary this month. The following Q&A captures Leann's perspectives on what makes working with Steno so engaging and why she's here to stay.
What does your role at Steno entail?
I coordinate all communication between our partners, so that includes the Texas Trial Lawyers Association, Consumer Attorneys of San Diego, the National Court Reporters Association, and the list goes on.
We sponsor more than 50 organizations dedicated to supporting attorneys and court reporters, and that number is continually growing. I work to ensure our annual sponsorship is upheld and coordinate the details of events and marketing activities for each organization.
We're pretty established in California, but we've recently expanded to the Illinois and Georgia markets, and we're trying to ramp up our work in those states. Events let us meet the clients in an area, find out what they're looking for, and show them what we're already offering that they could benefit from.
Basically, I help get our name out!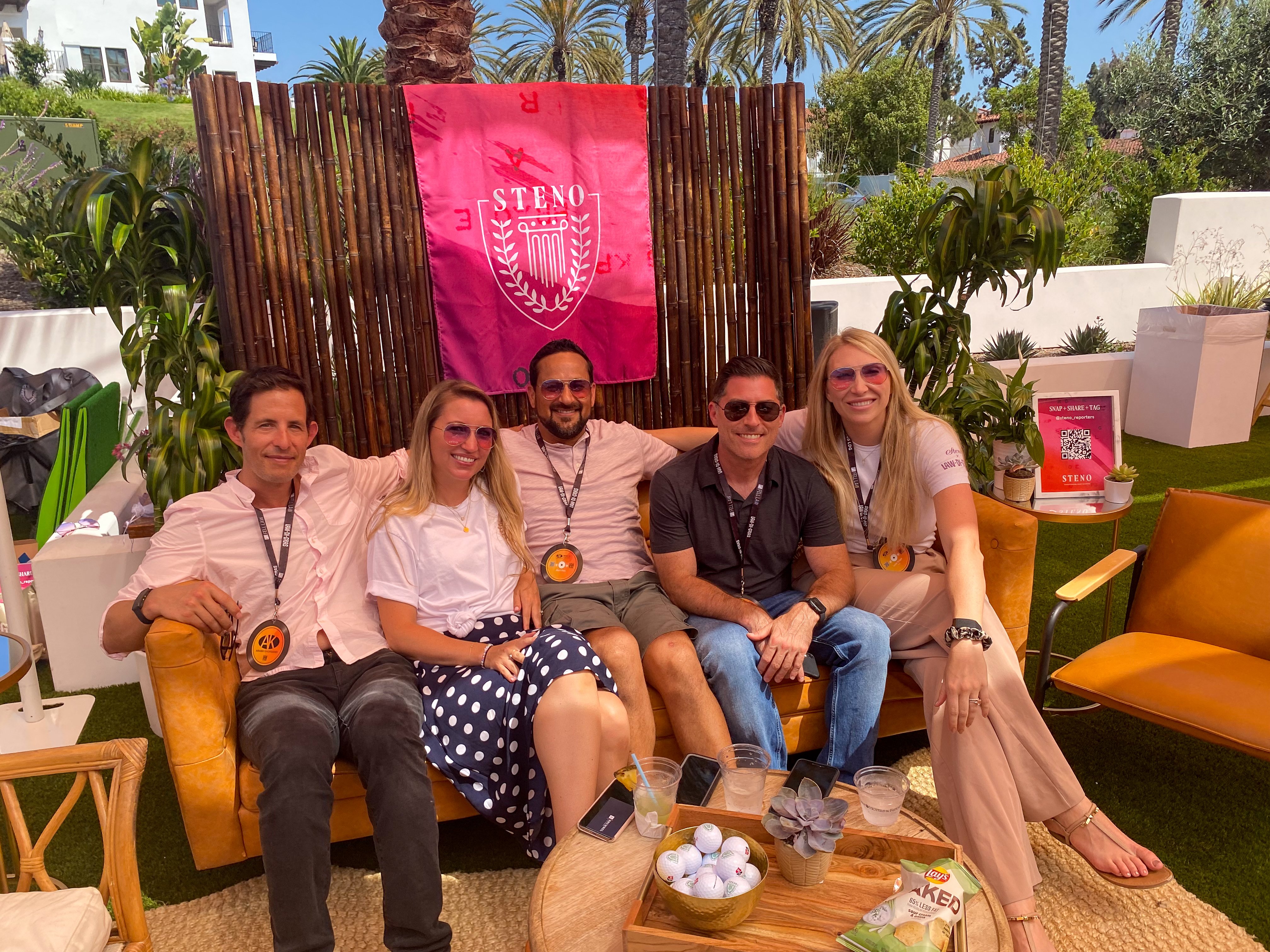 How did you find yourself working at Steno?
It was a long journey!
I was a geriatric physical therapist at a skilled nursing facility; that's what I went to school for. I wanted to be a physical therapist for athletes, but after about five years, I realized that it's just not what I wanted to do.
I saw my husband working at startups, and it looked so fun and exciting! So, I started applying for marketing internships. The people getting those internships, though, had Master's degrees. And I thought to myself, "How do I get in? I want in!"
I was kind of at a loss. But I went out to dinner with a friend, and Maggie Rold, Steno's Director of Customer Success, was in town at the dinner. She said that Steno was looking for passionate people to join the team.
And I said, "Well, what do you need? I'll be there!"
She said, "We just need people binding transcripts in the middle of the night."
I was like, "I don't care! I'll be there!"
That's how I ended up at Steno in the first place. I was doing my physical therapy, sometimes 10 to 12 hours a day, and then going to the Steno office in the middle of the night and just binding transcripts.
After some time, I shifted into production and scheduling. Then from scheduling to being an account manager, which was great! But I started at the bottom. I was doing office manager work, organizing shipping and storage boxes and cabinets.
Eventually, a Sales Manager position opened up, and from Sales, I began working on Business Development, which was sort of between Sales and Marketing.
Then, after even more time, Steno hired a Director of Marketing, and I joined her team. So now, I've worked in every department except Engineering and Finance.
What does a typical day look like for you?
Come in for the morning and look at all my emails.
I'm doing a lot of making sure that our events are entirely stocked with goodies and full of engaging activities for attendees. Each event is like learning something new, this year especially.
We just got back from a huge court reporting conference in Vegas, and we're headed there again next month for an attorney-focused event.
We have to sit down for each event and identify what went poorly, what went right, what we need to continue, what we need to stop. But, honestly, my job is to ensure that we're constantly becoming more efficient and building processes and documentation to achieve that.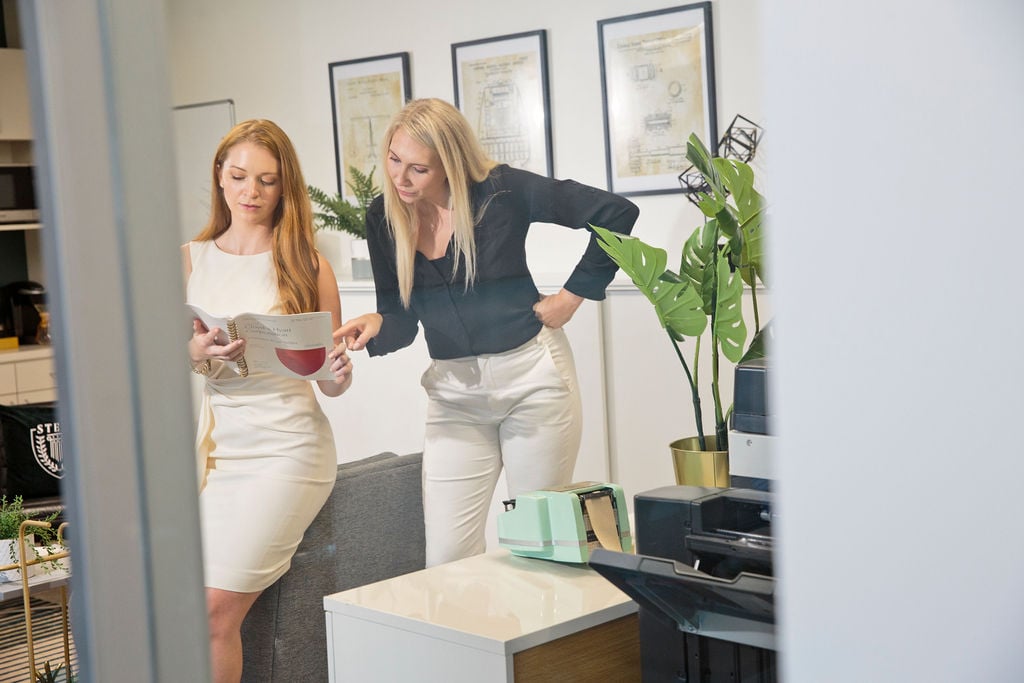 Out of all the things you do, what do you look forward to the most?
The moments before an event starts, I get butterflies! I have nervous little butterflies in my stomach. For weeks and months, we've been preparing for this event, and now it's happening.
When you're traveling, it's just nerves about getting there and seeing what things are like. We've never done these events before, so there are a million variables. The layout could be different from what we expected, or the unloading process could be different from what we prepared for; just a million variables could shift or change before you get on the ground.
For example, we participated in the Law-Di-Gras Ortho Spine Conference in Carlsbad, California, for the first time in person this year. When we arrived, the space was beautiful, but it was so hot the entire weekend. If we had known, we would have rented misting fans to help our visitors cool off.
My next favorite part is when everything is done and ready. Then, you can step back and look at it and just say, "Yay!"
How has your previous work experience informed your work at Steno?
I think that my biggest asset to Steno is my personality. One thing that I learned from being a physical therapist is communicating with different types of people and motivating them.
I bring that to Steno by talking to all different groups of people with diverse backgrounds and demographics. So there's a lot of variation there.
You have court reporters, and then you have lawyers, which are different groups. To talk to both of those people and intrigue them and keep them engaged is tricky. I find it very fun.
It's enjoyable for me to meet so many different people and learn so many other things from them, take that learning, and continue to apply that to my job at Steno.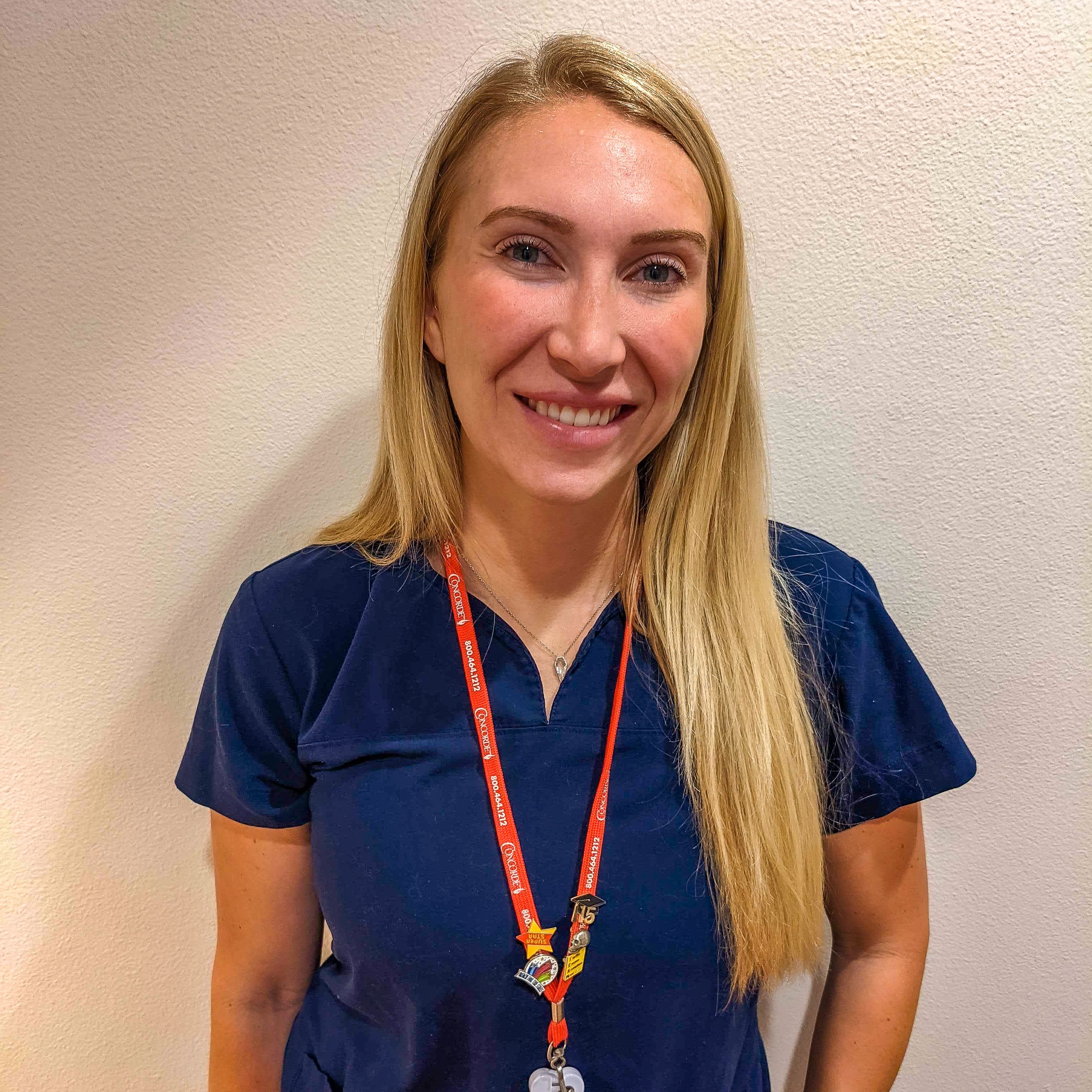 What's one thing you've learned in your time at Steno in any of your positions so far?
Always keep a cool head. That's the biggest lesson that I've learned, being here at Steno.
Being a physical therapist, especially with geriatric clients, is not precisely fast-paced. So coming here and being in a startup, seeing things change so quickly — one week it's this way, and one week it's this other way — is an adjustment.
Being able to keep a cool head and keep calm is the biggest asset. That's something that our Director of Marketing, Rachel, has taught me as well. Don't worry about everything happening at the time; just take care of the problem and figure out what you can learn from it.
So, overall, take care of what you need in the meantime. Learning from your mistakes is an asset in the ever-changing startup world.
When you're out of the office, what do you dedicate your free time to?
Back in my high school days, I was a club volleyball player. Although I played six sports in high school and a completely different sport in college, volleyball is my love. Every Thursday, we do a beach volleyball day with my husband and his coworkers and my old colleagues from physical therapy.
I'm a bit of a daredevil, as well. I love bungee jumping, skydiving, swimming with alligators and sharks, riding ATVs in the jungle, and repelling down waterfalls—the typical adrenaline-boosting activities.
I also love playing with my hound dogs! We have two Catahoula leopard dogs with a lot of energy, so we have to take them on many hikes.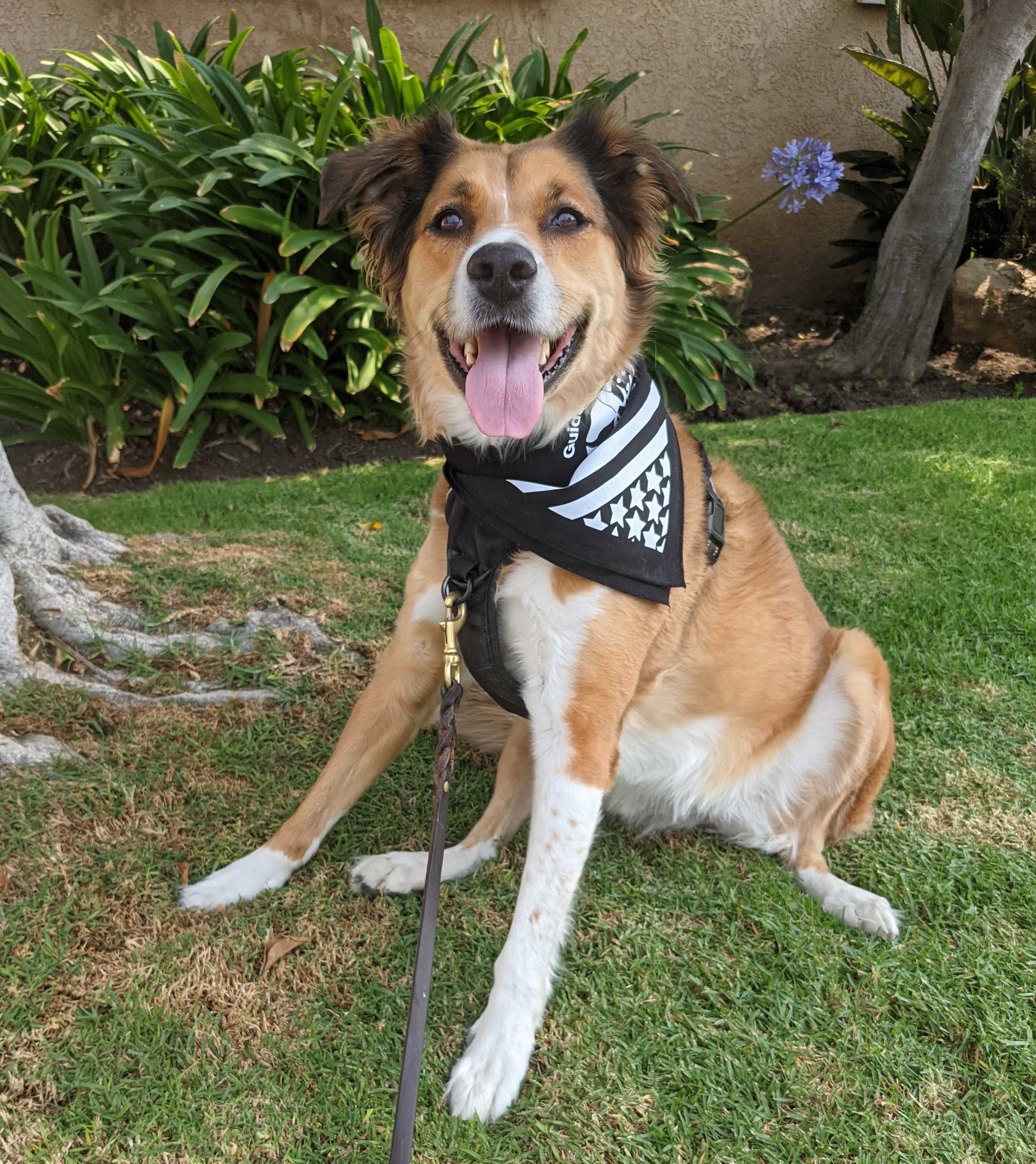 What would you do if you weren't at Steno?
To be honest, I want to be at Steno! I couldn't imagine getting the knowledge that I have anywhere else. This is precisely what I want, exactly what I need. I can't even imagine being anywhere else.
I've wanted to be in the marketing world for so long now. But, seeing how other places do marketing, you get to experience so much slower.
Sometimes, we're doing four to six events a month, and I am getting an insane amount of knowledge and training. I know that this isn't what I went to school for, but I wouldn't want to be anywhere else!
I love the people I work with, and I think this is the best place for me.
Are you interested in joining the winning team? See open career opportunities at steno.com/careers.
Steno Agency, Inc. NV: Firm #108F
TAGGED WITH:
Community
,
News and Updates
Get the latest from The Brief directly in your inbox
AVAILABLE NATIONWIDE
The court reporting you need. The service you deserve.

When running a law firm, you have a lot on your mind: your cases, your clients, your cash flow. You need to meet your deadlines, work up your cases, and generate new business. So the last thing on your mind should be worrying about the details of depositions. Don't let financing or technical hurdles stand in your way.
Recommended for you: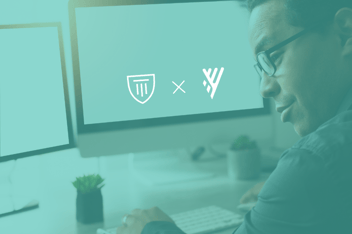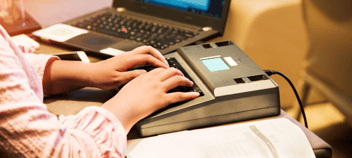 With the advent of COVID-19, moving into a virtual world became increasingly necessary for court...
Read Blog Post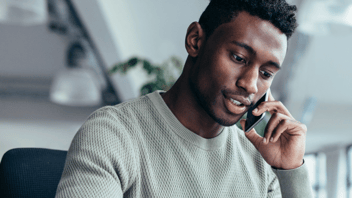 Taking a good deposition is the product of preparation. A deposition could help you resolve a case...
Read Blog Post