6 minute read
Tackling Innovation: Why Steno's UX Solutions Dominate in the Antiquated Legal Technology Industry
Editor's Note: Steno was founded in 2018 by a trial attorney, a computer engineer, and an experienced entrepreneur to address the financial burden many attorneys experience when taking depositions. Over time, Steno has developed additional products and services with the core purpose of improving the litigation process. In this article, you'll get to know Dan Anderson, Steno's Co-Founder and Chief Technology Officer, and see how he approaches product development with user experience as a focus.
Before Steno, Dan was the Vice President of Analytics at Reserve, a restaurant technology company. He graduated from Miami University in Ohio with a B.S. in Computer Engineering. Today, he has 12 years of experience bringing products to market and initiating positive change across a wide range of industries and global teams.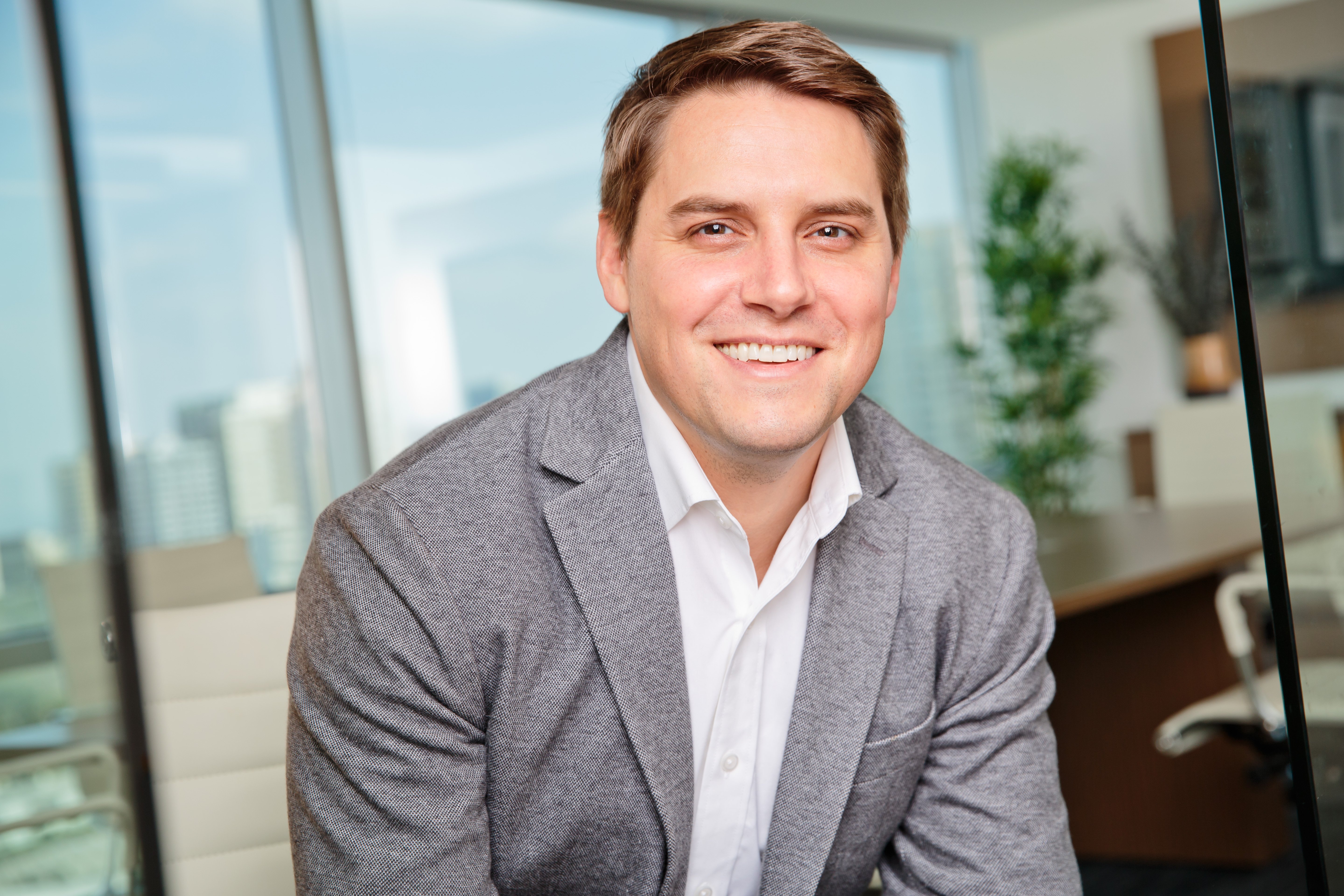 At Steno, we're transparent about how we run our business. Many of our decisions are driven by our core values; to be highly reliable, constantly innovate, and operate with a hospitality mindset.
As one of the founders and the CTO, our core value of constant innovation holds significant value and remains top of mind to improve our products and services.
The term "innovation" is multifaceted, but to me, innovation means building technology focused on user experience and making our clients' work easier.
User experience (UX) design is the process design teams use to create products that provide meaningful and relevant experiences to users. Since Steno's inception, we've successfully designed innovative solutions that improve the UX for technology that our clients rely on to practice law.
How Steno's Engineers Create UX-Focused Legal Tech
Steno improves the user experience for our customers by asking them questions, listening to their answers, and making product development decisions based on their feedback.
Developing an intimate understanding of the problems attorneys face has allowed us to introduce solutions that simplify unnecessarily complex systems.
The inspiration for our deferred payment process, DelayPay, is a prime example of this.
Attorneys incur huge expenses in the court reporting phase of the litigation process. Multiply thousands of dollars by hundreds of cases over a period of time, and finding ways to pay for depositions can be daunting.
While litigation financing isn't new, DelayPay allows attorneys to defer litigation expenses entirely until after their case resolves. For this product, innovation extended beyond technology and included optimizing our business model to deliver a more seamless user experience.
DelayPay empowers smaller firms to free up cash flow, grow their practices, and improve access to justice for plaintiffs who lack the financial resources to fund their cases.
Steno's firm dashboard is another example of innovating with user experience in mind. The firms we work with can log in to a shared dashboard and view all of their upcoming jobs, exhibits, and audio and video files in one convenient place. Attorneys can also edit their upcoming jobs by adding services or canceling jobs altogether.
The dashboard also acts as a centralized location for billing where attorneys can view open invoices and pay for services by matter. Everything is easily accessible by the entire litigation team and can be searched and filtered based on users' needs.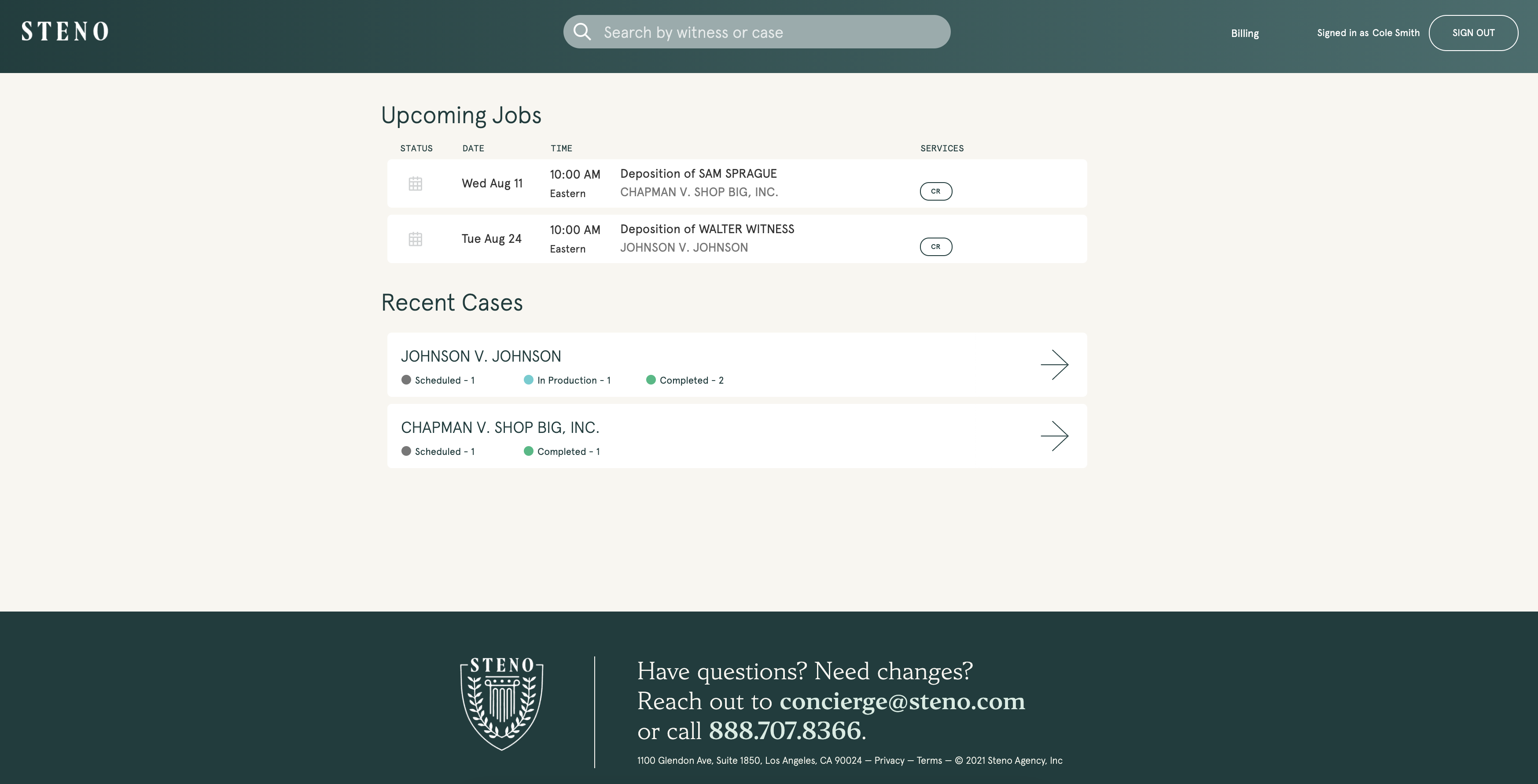 We built the firm dashboard to combine several disjointed systems and processes and tie them into one product that saves our clients time and effort.
In the wake of the ongoing COVID-19 pandemic, attorneys began practicing law remotely and relying on generic videoconferencing solutions like Webex or Zoom. Once simple tasks like sharing exhibits now required multiple applications, screens, and a solid command of technical systems.
We built Steno Connect specifically to emulate the user experience of taking a deposition in person. Our video-conferencing platform is accessible via any internet browser and includes live technical support.
Exhibits can be viewed, shared, annotated, and downloaded directly in the software.
Video layouts are customizable, and participants can be highlighted.
We even built a feature enabling the court reporter to toggle between being on and off the record.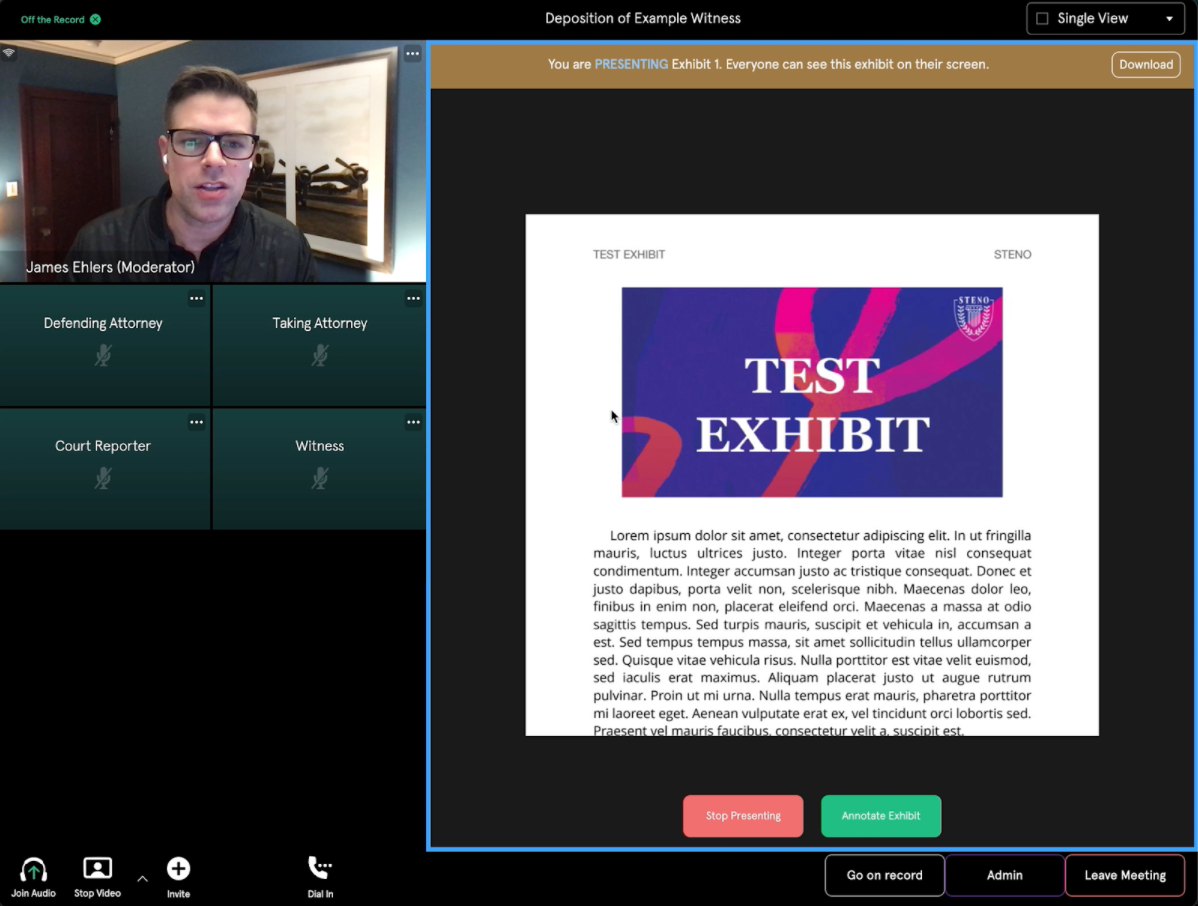 However, great technology means nothing without an internet connection or a device to use it. Steno provides participants with any equipment needed to litigate remotely. If a deponent doesn't have a laptop, webcam, or internet connection, we'll send them what they need to ensure they can provide their testimony as they would in person.
Our court reporter marketplace is also fundamentally changing how court stenographers are doing their work. We learned that court reporters were scouring emails, answering texts and calls, and searching through Facebook groups to find their jobs and fill their schedules.
Based on their feedback, we built an online marketplace that empowers them to find and book jobs with a few clicks and get hours of wasted time back.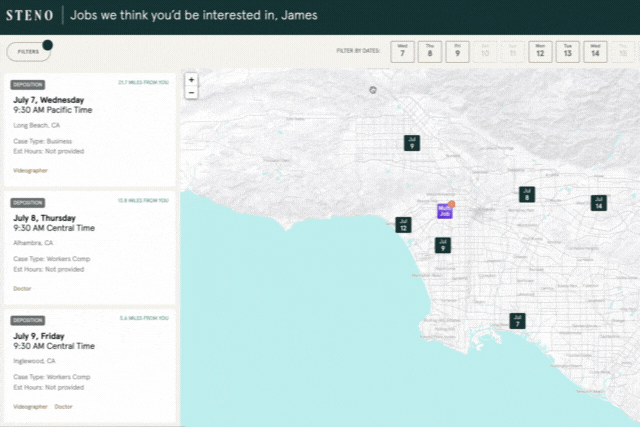 We also heard from our stenographers that timely payment was a huge issue. They were waiting weeks or even months to get paid for work they had already submitted. We built internal processes to send payment within days to solve this problem.
Our most recent innovation was building integration with Litify's case management software. Attorneys who use Litify and Steno can now:
Book depositions and court reporting services with Steno from the "Matters" tab. Access all depositions and files from each Litify Matter via a new tab called "Steno Jobs"
View, store, and download Steno transcripts, exhibits, and video files directly in the case management platform.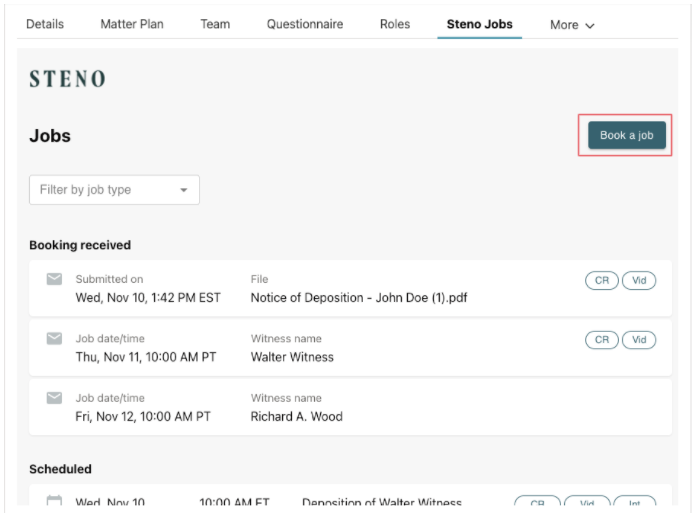 Improving User Experience Helps Make Legal Technology Easy
Making things simpler for our customers isn't always simple for us on the back-end.
For example, when you log into Instagram, most people can navigate the platform without being taught how to use it. Hundreds of people work across several teams to make Instagram's UX intuitive, easy, and enjoyable.
We try to apply those same principles to the products Steno creates. Our clients come from various backgrounds and experience levels with hardware and software. We strive to create technology that is easy to use and doesn't require intensive training to understand.
We have a team of in-house product and engineering experts who create solutions to meet our clients' needs in real-time. They collaborate directly with our dedicated account managers to address issues as they arise, collect feedback to apply to future iterations of our products, and streamline our software for ease of use.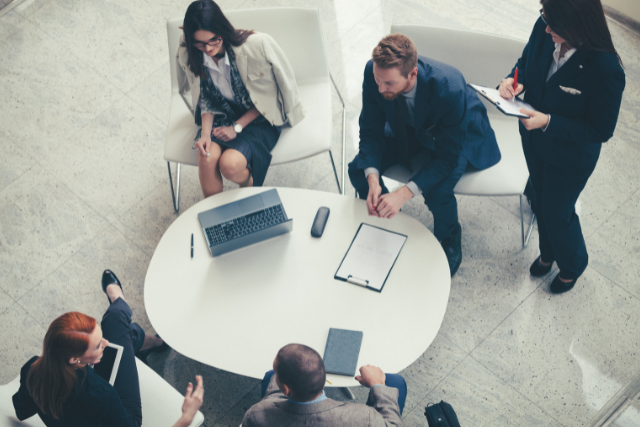 Innovation starts with our team. We have a rigorous hiring process grounded in the notion that top talent attracts top talent. Each new Steno employee is well-vetted to ensure that they uphold the same core values that we use to guide business decisions.
People often ask me what factors influence our decisions to develop new products. The answer, in short, is that we care about what works for our clients. The starting point for every advancement in our technology is the opportunity to simplify attorneys' workflows.
Legal technology is historically outdated. Existing systems are clunky and lack efficiency where it is needed most. Steno fulfills a need in an antiquated industry by introducing intuitive technology that improves attorneys' lives.
Schedule a free demo today to see our innovative technologies in action.
TAGGED WITH:
Thought Leadership
,
Technology
Get the latest from The Brief directly in your inbox
AVAILABLE NATIONWIDE
The court reporting you need. The service you deserve.

When running a law firm, you have a lot on your mind: your cases, your clients, your cash flow. You need to meet your deadlines, work up your cases, and generate new business. So the last thing on your mind should be worrying about the details of depositions. Don't let financing or technical hurdles stand in your way.
Recommended for you: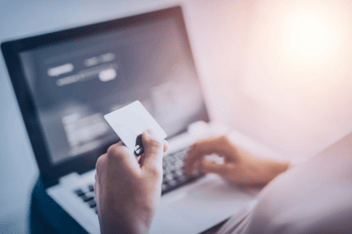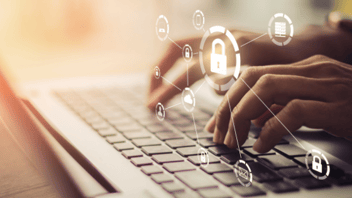 The digital age is transforming virtually every industry, and the legal field is no exception....
Read Blog Post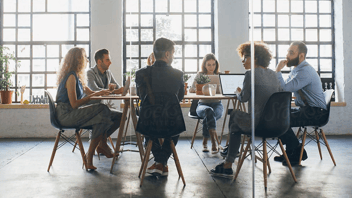 The most significant event in any case for the plaintiff or defense is your client's deposition....
Read Blog Post